Silica Sand Market Trends, Price, Share And Growth Rate From 2017 To 2022
The global silica sand market grew at a significant rate in the recent years. The major factor which has contributed in influencing the market growth include its increasing applications in different sectors such as glass industry, foundry, hydraulic fracturing, filtration and abrasives.
The latest report by IMARC Group titled, "Silica Sand Market: Global Industry Trends, Share, Size, Growth, Opportunity and Forecast 2017-2022", finds that the global silica sand market reached a volume of 116 Million Tons in 2016, growing at a CAGR of nearly 8% during 2009-2016. Silica sand, or industrial sand, is the most commonly available varieties of sand on earth. It is rich in quartz, a mineral, which is composed of silicon dioxide. Some other minerals are also present in silica sand in small quantities such as aluminium, feldspar and iron-bearing minerals. Silica sand used for several industrial purposes, other than construction, must contain high proportion of silica and less quantity of other metals. Along with this, the uniformity of grains and physical characteristics (grain size, distribution, grain shape, sphericity, grain strength and refractoriness) also play an important role in the industrial applications of silica sand.
Request sample of the report: http://www.imarcgroup.com/request?type=report&id=529&flag=B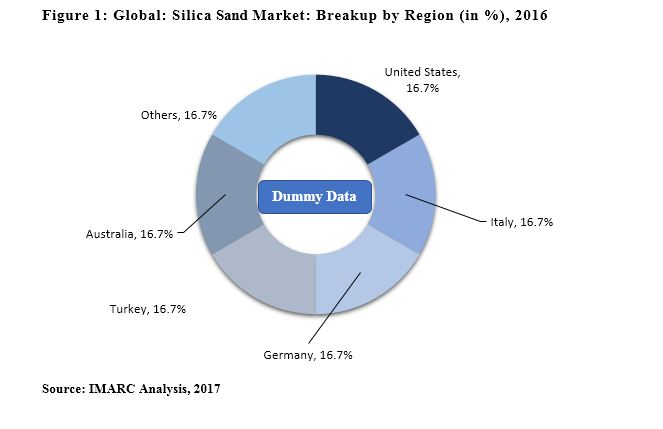 Highlights of the global silica sand market:
The market is driven by its expanding applications across several industries.
The United States is the largest market for silica sand, accounting for the majority of the share.
The market is expected to reach a volume of around 231 Million Tons by 2022.
The market is segmented on the basis of end-use with some of its major end-use industries being glass industry, foundry, hydraulic fracturing, filtration and abrasives. In the glass industry, silica sand is used in the manufacturing of glass containers, flat glass, reinforcement fiberglass, insulation fiberglass and specialty glass. These are further used for various purposes such as manufacture of incandescent, fluorescent lamps, and television and computer CRT monitors; construction, including commercial and residential; and automotive and solar applications. Apart from this, it is used in the chemical industry to assist the production of silicone gel, sodium silicate and silicon tetrachloride. Silica sand is also combined with other materials and used as an abrasive for grinding, polishing, honing, buffing, cutting, drilling, etc. in a wide range of industrial, domestic and technological applications. According to the report, the market is expected to reach volume of nearly 231 Million Tons by 2022.
Browse full report with TOC: http://www.imarcgroup.com/global-silica-sand-market
The market is also segmented on a regional basis with some of the major markets being the United States, Italy, Germany, Turkey and Australia. Amongst these, the United States represents the largest market for silica sand, accounting for the majority of the shares. An evaluation of the competitive landscape is provided, along with the details of the major players operating in the market. Some of the key players are Atlas Resin Proppants, Badger Mining Corporation, Cemex, Fairmount Minerals Limited, FlexFrac Proppant Sand Suppliers, etc.
The study, which has been done by one of the world's leading research and advisory firms, covers all the requisite aspects of the silica sand industry. This ranges from macro overview of the market to micro details of the industry performance, manufacturing requirements, project cost, project funding, project economics, expected returns on investment, profit margins, etc. This report is a must-read for entrepreneurs, investors, researchers, consultants, business strategists, and all those who are planning to foray into the silica sand industry in any manner.
The report has examined the global silica sand market on the basis of:
Market by End-Use:
Glass Industry
Foundry
Hydraulic Fracturing
Filtration
Abrasives
Key Regions:
United States
Italy
Germany
Turkey
Australia
Key Players:
Atlas Resin Proppants
Badger Mining Corporation
Cemex
Fairmount Minerals Limited
FlexFrac Proppant Sand Suppliers
Browse related reports:
Gypsum Board Market: http://www.imarcgroup.com/gypsum-board-manufacturing-plant
Mineral Wool Ceiling Tiles Market: http://www.imarcgroup.com/mineral-wool-ceiling-tile-manufacturing-plant
About Us
IMARC Group is a leading market research company that offers management strategy and market research worldwide. We partner with clients in all sectors and regions to identify their highest-value opportunities, address their most critical challenges, and transform their businesses.
IMARC's information products include major market, scientific, economic and technological developments for business leaders in pharmaceutical, industrial, and high technology organizations. Market forecasts and industry analysis for biotechnology, advanced materials, pharmaceuticals, food and beverage, travel and tourism, nanotechnology and novel processing methods are at the top of the company's expertise.
Contact Us
IMARC Group
USA: +1-631-791-1145
Email: [email protected]
Website: http://www.imarcgroup.com
Follow us on twitter : @imarcglobal
Media Contact
Company Name: IMARC Group
Contact Person: Jim Clarke
Email: Send Email
Phone: +1-631-791-1145
Country: United States
Website: http://www.imarcgroup.com/