Harry & Sons Receives GAF's Prestigious 2017 President's Club Award
Harry & Sons of Brentwood, MD, has received GAF's 2017 President's Club Award. A GAF Master Select(TM) contractor since 2011, the company uses premium materials in the latest styles, at competitive prices and with a variety of warranties.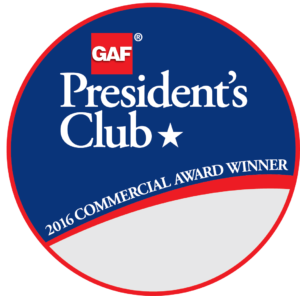 Brentwood, MD – June 6, 2017 –
Harry & Sons of Brentwood, Maryland, has received the most prestigious contractor award GAF offers: The GAF President's Club Award. This highly coveted award recognizes Harry & Sons as one of the "elite of the elite" commercial roofing contractors in the United States.
GAF is North America's largest roofing manufacturer, and only GAF Master Select(TM) Contractors can compete for its commercial President's Club Award. To qualify for this award, a commercial roofing contractor must meet specific criteria in at least one out of three different pathways: the Performance pathway, where contractors focus on giving their property owners the best possible service, quality, and protection; the Reliability pathway, where the contractor has a long history of offering their customers the best quality and protection; and the Service pathway, where contractors consistently offer their customers the best protection available in the marketplace.
Harry & Sons has been a GAF Master Select(TM) Contractor since 2011; the company received the President's Club Award due to its excellent performance in 2016. To become a Master Select(TM) Contractor–a status that less than 1% of roofing contractors nationwide are able to achieve–a candidate must demonstrate proper licensing, maintain insurance (in states that require it), have a proven reputation, and show commitment to ongoing professional training.
People trust their friends and families, so they also trust Harry & Sons, according to owner Harry Kalashian. "We track 100% of our jobs to find out where the lead came from. Much of our business is from personal referrals or past clientele. New customers feel that we're an extension of the referring people, so they trust our company to work on their properties."
A family-owned-and-operated business, Harry & Sons is a commercial and residential roofing contractor that has been serving the greater Washington, DC, area for more than 33 years. "I've been in the business for more than 38 years," states Kalashian. "Two of my four boys work here as well. Our vice president has been here for 16 years, and his son is our head estimator. We're very family-oriented."
The company has a well-earned reputation for quality and the positive feedback to back it up. "Our ratings and reviews are consistent across the board," says Kalashian. "In the last several years, we've qualified multiple times to be in the Best Pick Reports catalog, which features only four roofers. We also have an extremely high rating in Consumers' CHECKBOOK magazine. The more customers we work with, the more they add new, positive ratings for us." Kalashian adds: "The customers get even more reassurance from the fact that we have a supervisor on every single job. Someone is always there to answer whatever questions they might have."
Harry & Sons works with the community, as well. "We donated windows to Omni House, a senior living center," says Kalashian. "We installed all the windows for them."
Moving forward, the company looks to expand. "We'd like to get bigger offices and a few more service vehicles," concludes Kalashian. "That would enable us to service our customers better and continue with the high standards that we offer them now. The service is important; when economic times are bad, people neglect their homes–doing only small, minor repairs to roofs instead of the replacements that they really needed. As times get better, we're here, ready to give their roofs the attention they need. New clients looking for roofing services should just check our ratings–our customers speak for us."
About Harry & Sons
Harry & Sons has been serving the greater Washington, DC, Maryland, and northern Virginia areas for more than 33 years with superior roofing and maintenance services. Providing clients with trouble-free roofs, the company uses only premium materials in the latest styles, at competitive prices and with a variety of warranties to give peace of mind. Harry & Sons takes pride in its work and guarantees the quality of all roofing services.
Harry & Sons
3403 Windom Rd.
Brentwood, MD 20722
(301) 864-8398
Toll-free: (800) 443-6356
http://www.harryandsonsroofing.com
About GAF:
Founded in 1886, GAF is the largest roofing manufacturer in North America. The Company is an operating subsidiary of Standard Industries.
GAF products include a comprehensive portfolio of roofing systems for residential and commercial properties, which are supported by an extensive national network of factory-certified contractors. Its success is driven by its commitment to Advanced Quality, Industry Expertise, and Solutions Made Simple. GAF was the first roofing manufacturer to offer a Lifetime limited warranty on all of its laminated shingles, which then evolved with the introduction of the GAF Lifetime Roofing System by extending the Lifetime coverage beyond just the roofing shingles.
With a focus on social responsibility, GAF developed Advanced Protection(R) Shingle Technology, providing excellent durability and wind resistance while reducing the use of natural resources. The Company has also developed single-ply and asphaltic roofing membranes with excellent durability and high reflectivity to meet the most rigorous industry standards while helping commercial property owners and designers reduce energy consumption.
GAF also supports the roofing industry through CARE, the Center for the Advancement of Roofing Excellence(TM), which has provided education to over 230,000 professionals. CARE's mission is to help professional contractors and distributors build their businesses through sales and management education, and to provide product and installation training to contractors, distributors, architects, property owners, and related industry personnel.
For more information about GAF, visit: gaf.com
About Standard Industries:
Standard Industries is a privately-held, global, diversified holding company with interests in building materials, aggregates, and related investment businesses in public equities and real estate. With over 7,500 employees and operations in more than 80 countries, Standard maintains a team-oriented culture of meritocracy and operational excellence, and a passionate focus on investing in its people.
Media Contact
Company Name: Harry & Sons
Contact Person: Harry Kalashian
Email: [email protected]
Phone: (301) 864-8398
Address:3403 Windom Rd.
City: Brentwood
State: MD
Country: United States
Website: http://www.harryandsonsroofing.com