Catch Wrestlers with authentic Catch Wrestling backgrounds from all across the globe to compete in this exclusive mega event!
March 9, 2015 – Culver City, CA, United States – Catch Wrestling Alliance (CWA), one of America's leading promoters of Catch-as-Catch-Can Wrestling events is out on a mission to bring back the REAL professional wrestling. CWA today announced its second international Catch Wrestling Alliance event, entitled "Revelation," scheduled to take place on May 2, 2015, at South Coastal Martial Arts, 2990 Grace Lane, Costa Mesa, CA 92626. The event will feature MMA Legend, Randy "The Natural" Couture as a special guest of honor.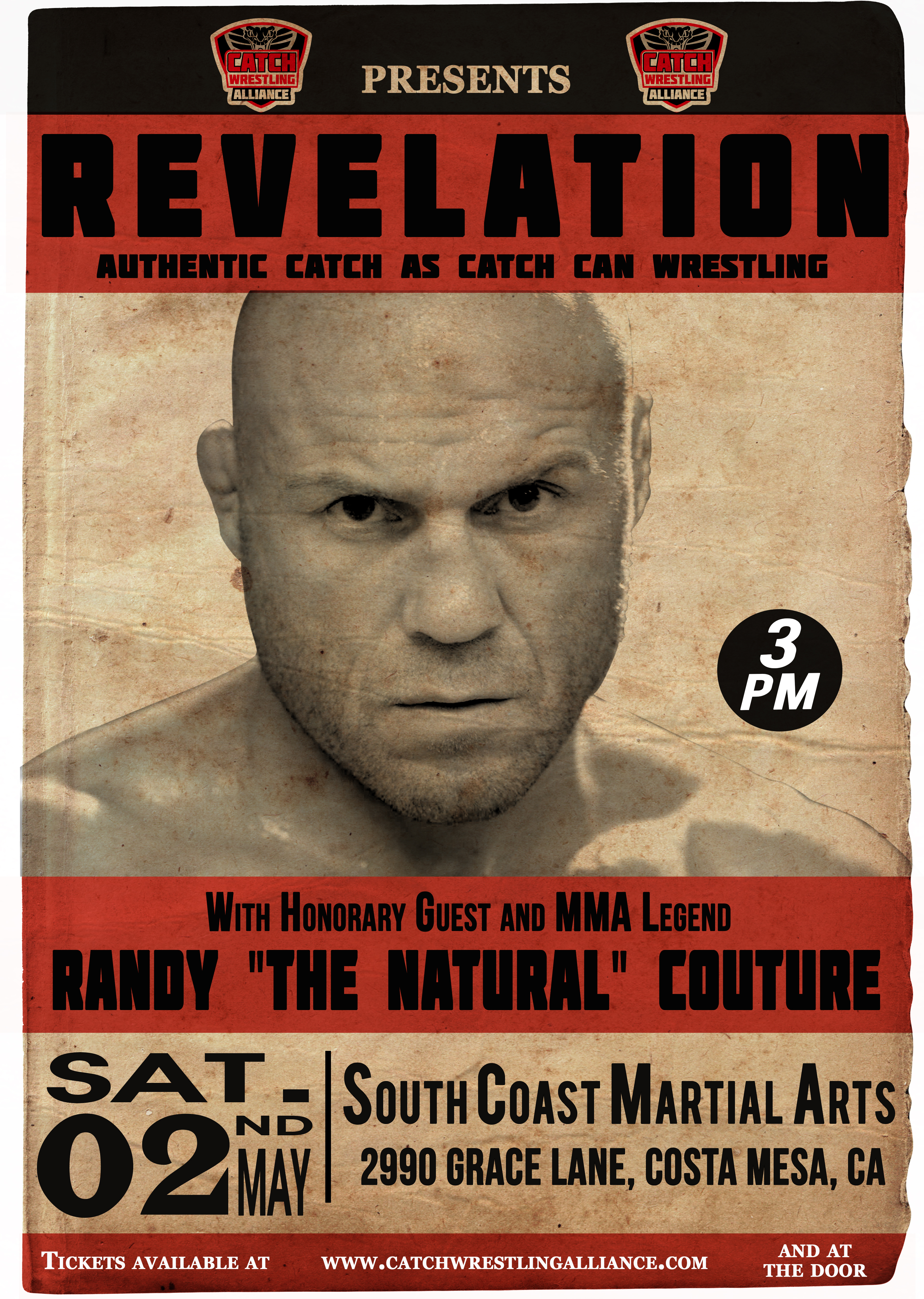 For those who don't know anything about Catch Wrestling, this can be a unique opportunity to see how professional wrestlers of the golden era used to struggle in the ring for supremacy. Catch-as-Catch-Can, or Catch Wrestling was indeed the very foundation of modern folkstyle, freestyle, pro wrestling and MMA. Unlike modern forms of wrestling, Catch-As-Catch-Can Wrestling is known for its distinctive takedowns, submissions, pins and mat wrestling. Besides this, many great American wrestlers like Frank Gotch, Farmer Burns, Tom Jenkins, Earl Caddock and Billy Wicks were actually Catch Wrestlers.
As Raul Ramirez, Chief Organizer of the Catch Wrestling Alliance quoted; "We are very happy to have the support of MMA legend Randy Couture for the revelation of authentic Catch Wrestling to the public." He further added. "We want to make the old time Catch Wrestlers proud, this will be the only event outside of England that will demonstrate Catch Wrestling the way it has been passed down for generations."
Raul Ramirez, the chief organizer of the event is a man of vision. He started Catch Wrestling Alliance in association with other Catch Wrestling schools from around the globe with an aim to reinstate legitimate Catch Wrestling competition worldwide and make this sport popular amongst the fans of modern era. Events like "Revelation" provide Catch Wrestlers from different parts of the world with a unique platform, where they can compete for supremacy.
The event will take place on May 2, 2015, and Match Ups are yet to be determined, which will be announced later. All the matches in this event will be held under traditional Catch Wrestling Rules, where one can win by submission or pin. No points will be scored. All kinds of submissions will be allowed, except for stranglehold.
Tickets for "Revelation" are currently available for sale, which can be purchased from: http://www.catchwrestlingalliance.com/
About Catch Wrestling Alliance
Catch Wrestling Alliance is the brainchild of Raul Ramirez who laid the foundation of this organization with an aim to promote Catch Wrestling and host international Catch-as-Catch-Can Wrestling events.
Media Contact
Company Name: Catch Wrestling Alliance
Contact Person: Raul Ramirez
Email: Send Email
Phone: 310 930 6046
Country: United States
Website: http://www.catchwrestlingalliance.com/